Registering your interest for election work is easy through the online AEC Employment system.
On this page:
Completing an online application
Before completing your registration of interest
It takes around 30 minutes to register your interest to work at federal elections.
You will be asked for a range of information, including your:
personal details
relevant experience
availability for work and preference for roles and locations.
It's important that you provide all the information requested in the registration of interest. This is because the AEC does not know when the election will be called, so we need to be able to onboard people at short notice. Having this information upfront helps speed up the process for you and for us.
Before you start, read the job descriptions to see what roles might be suitable for you.
If you have previously started a registration you can go straight to log in; if not, you will need to create an account.
Tips on completing your registration of interest
Regularly save as the system automatically times out after 20 minutes. You can log back in to reset the time limit and continue your application.
If you have previously registered for election work, you don't need to create a new registration of interest. Simply review and update your details.
 If you no longer want to be registered for election work, you can remove your details from the register by cancelling your registration of interest.
What happens after you submit your registration
The AEC runs an ongoing election recruitment process so there is no fixed date by which you'll know if your registration is successful. After an election is announced, the AEC progressively sends employment offers to applicants via email.
The AEC needs around 100,000 temporary election workers. However, submitting a registration of interest does not guarantee employment.
To improve your chances of receiving an offer of employment, you may like to consider nominating more than one preferred work location during the registration of interest process. You can nominate up to 10 locations.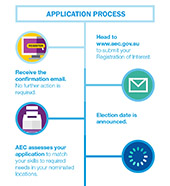 Registration steps
Right now
You can submit a registration of interest online at any time.
The AEC will assess your registration.
Once an election is announced
The AEC may contact you via phone or email.

If a suitable role is available, the AEC will contact you and provide details of the role, start date and location.

The AEC will send you an offer of employment via email.

If you are interested and are available, the AEC will send you a letter of offer.

You can accept the offer via email.

If you receive a letter of offer and accept it, you will get a confirmation of employment letter.
The letter includes the details of the role and any training required.
For election day roles, this is usually three weeks prior. If you have training allocated, you must complete it before you can commence work. You will be paid for any required training.