The AEC Reputation Management System
Public trust in the AEC is intrinsically linked to trust in the integrity of Australian electoral processes and results. Maintaining this trust is a critical part of the AEC's role in defending Australia's democracy.
However, in a continuously-evolving information eco-system, and with Australians exposed to false and misleading narratives about the electoral process, this task is more complex and challenging than ever before.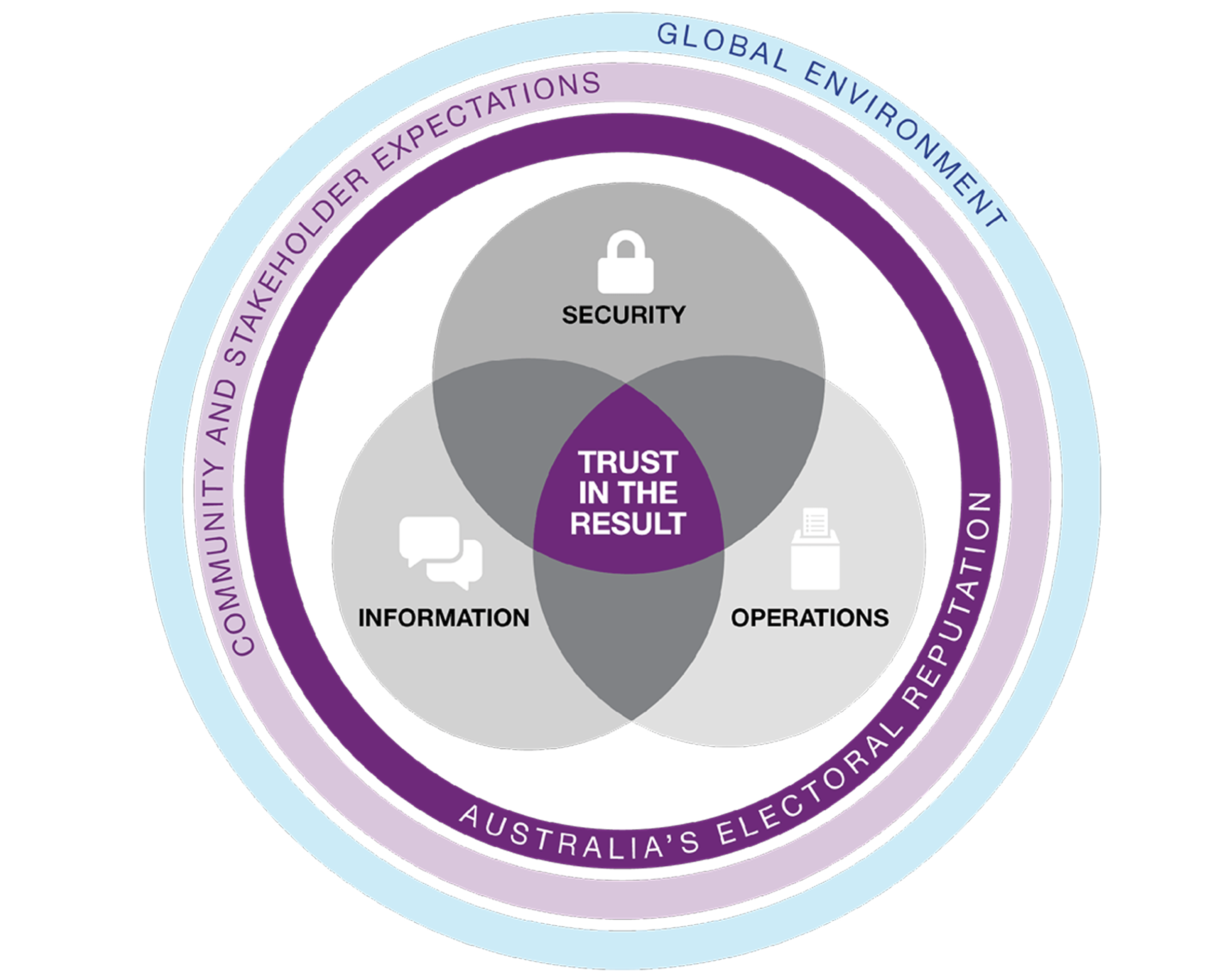 The domestic and international information environment is increasingly impacting people's understanding of, and trust in, Australia's federal electoral processes.
Community and stakeholder expectations of electoral management bodies now arise through a world of digital convenience and rapid communication. These expectations grow and evolve swiftly, often without contextual grounding.
In this environment, trusted electoral operations, security and information are critical to maintaining public confidence in Australian electoral processes and results.
The AEC's Reputation Management System further embeds a focus on electoral integrity across all facets of AEC business. The system provides a tangible connection from all individual tasks and roles to the broader purpose of the AEC, with a focus on delivering high quality, trusted electoral events for Australians.
Operational excellence
Operational excellence is the foundation of the AEC's approach to reputation management.
Robust, impartial electoral event delivery is the most important and effective way for the AEC to maintain its reputation and protect the perceived and actual integrity of electoral processes.
All AEC staff have a vital role to play. Trust in electoral processes and results is dependent on every task being undertaken with integrity.
The principles
Delivery of electoral events is more complex and unpredictable than ever. The AEC's six reputation management principles aim to guide the active and transparent promotion of a positive, trusted reputation for the Australian electoral system.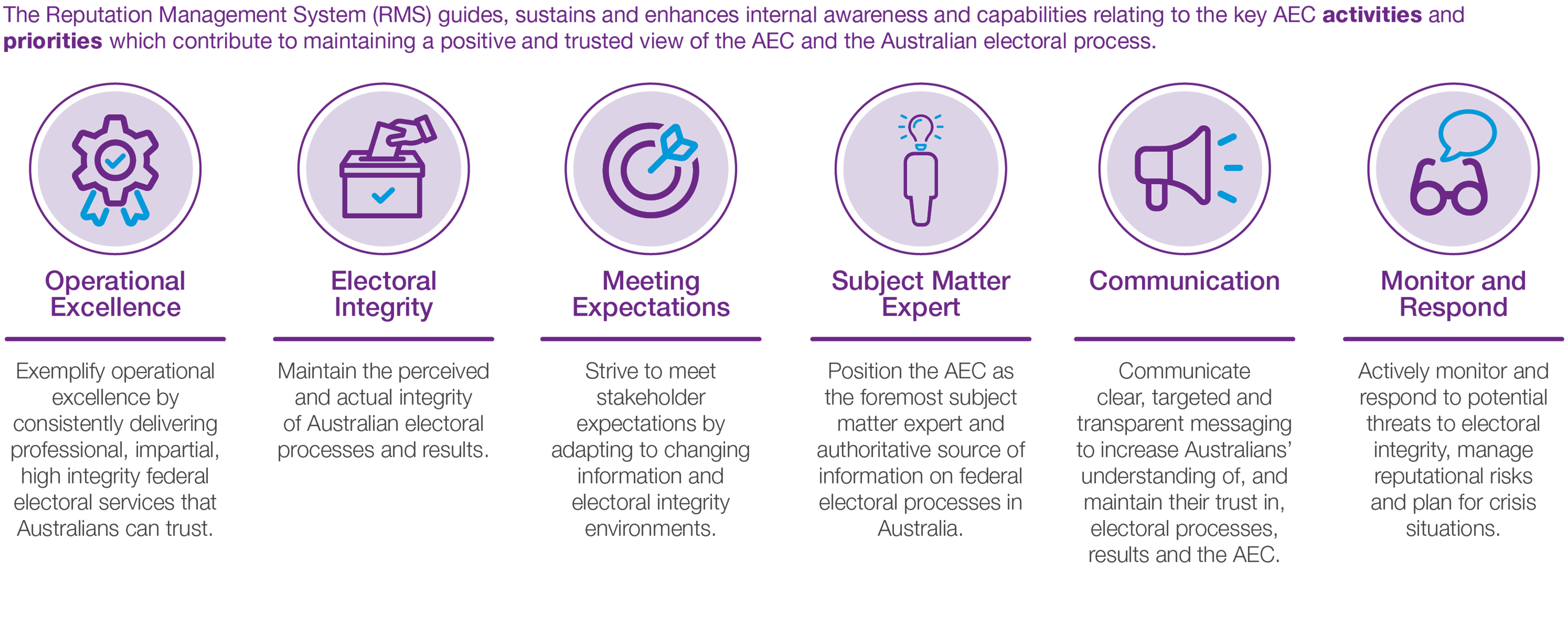 Our values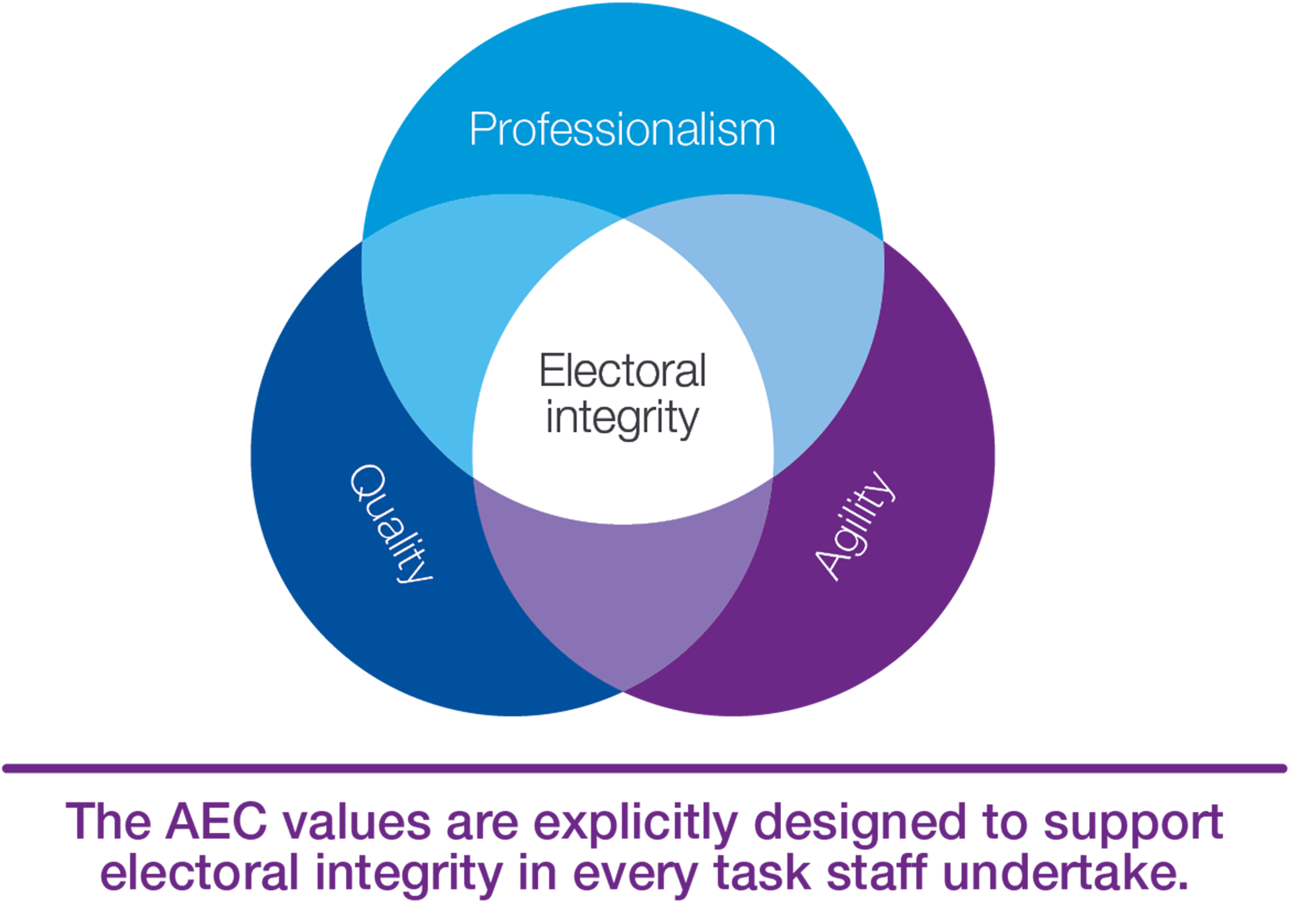 The AEC values are explicitly designed to support electoral integrity in every task that AEC staff members undertake.
The values of Professionalism, Agility and Quality have been a consistent driving force that has underpinned the AEC's focus on electoral integrity for the past decade.
The interconnected activities, principles and focus areas of the Reputation Management System will equip the AEC to maintain public trust in Australia's electoral processes and results.
Related links:
Updated: 24 July 2023