AEC Graduate Program
Welcome to the AEC! We are at the heart of Australian democracy, and it is with us that you will be involved in meaningful and rewarding work of national significance.
Hear from our graduates
Small agency, big impact
At the AEC our purpose is to maintain an impartial and independent electoral system for Australian eligible voters. We are leaders in achieving best practice election delivery.
You can play a crucial role in running a federal election, which is the nation's largest peacetime logistical event. At the AEC we are proud of the part we play in democracy, so come join us and help shape your country's future.
We are part of the Department of Finance portfolio and work closely with them and other APS agencies on electoral priorities.
If you are interested in working in a dynamic, innovative and collaborative environment, where diversity of thought is valued and your individuality is embraced, then the AEC is the place for you.
To be eligible to apply for the AEC Graduate Program, applicants must, at the time of commencement:
have gained a minimum credit average
be able to obtain a baseline security clearance
be able to satisfy a police records and character check
be an Australian citizen or provide evidence to verify impending citizenship.
Key dates
Our AEC Graduate Program runs annually from February to December. Recruitment and selection process generally commences in March with offers made no later than October. All positions are located in the AEC's national office in Canberra, ACT.
What we offer you
The AEC Graduate Program is more than just a job, it is your career pathway into the Australian Public Service. During this opportunity as a graduate, you will have access to professional development and on-the-job training, working alongside dedicated and innovative people to design, develop and deliver policies, programs and services that benefit all Australians.
Throughout your graduate year, you will gain valuable skills and experience through a comprehensive induction program and a series of placements across our business. This will help you get to know what we do here at the AEC.
On-the-job and specific public-sector training, seminars, networking, coaching and mentoring, all form part of this exciting opportunity which will prepare you to succeed in the APS.
You will join us as an ongoing APS 4 level employee. While developing skills, knowledge and expertise during the program, you will be preparing yourself to advance your career.
Check out our Enterprise Agreement 2016–19 to explore all the benefits available to our people.
Find your fit
Your degree does not define your career pathway. At the AEC, we believe your degree serves to complement your existing skills, passion and goals. Apply now to find out more!
If you are not located in Canberra, you will need to relocate. We understand this might be met with mixed feelings. Don't worry, the supportive team at the AEC will guide you through this time and answer any questions you might have.
What happens after the Graduate Program?
Upon successful completion of our program, you will work in a role where you can apply the skills and knowledge you have gained during your graduate year.
Australian Government Graduate Program
The Australian Government Graduate Program offers graduates job opportunities across multiple disciplines. In 2021, the AEC will be participating in both the Generalist Stream, and the APS Indigenous Graduate Pathway Stream.
Applying to one of these Streams means you only have to go through the application and selection process once per Stream to be considered for a range of Australian Government agencies.
Wherever you start your public service career as a graduate, you'll do meaningful work from day one, be asked to contribute, be recognised for your perspective and see the impact you can make in the Australian community we serve.
Click here to apply and find out more about both the Generalist and Indigenous Graduate Pathway Streams.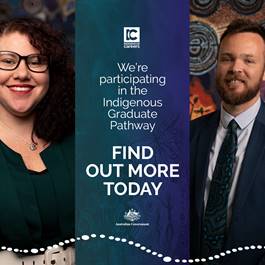 Updated: 29 March 2021