Two Northern Territory seats to again be contested at the next federal election
Updated: 10 December 2020
Legislation regarding the entitlement of Australia's two territories in the lower house of parliament will have both a short- and long-term effect.
The Australian Electoral Commissioner, Tom Rogers, today acknowledged the passage of the Electoral Amendment (Territory Representation) Bill 2020.
"The change to the Electoral Act sets aside the element of the July 2020 determination that reduced the number of NT seats in the House of Representatives from two to one," Mr Rogers said.
"This means that, at the next general election, the NT's two federal election divisions of Lingiari and Solomon will again be contested – just as they were at the 2019 federal election.
"In the longer term, the legislation changes the method employed to work out the number of House seats allocated to the NT and ACT.
"The new 'harmonic mean' calculation – to be first used when the regular determination of entitlement occurs after the next federal election – will lower the rounding-up mark used to go from one seat to two seats, and from two seats to three seats, in the NT and ACT."
Mr Rogers said the latest changes to the Electoral Act would have no impact on the redistributions in Victoria and Western Australia that are in progress now as a result of the July 2020 determination.
"As announced, Victoria will gain one division – going from 38 to 39 – and Western Australia will lose one division – going from 16 to 15," he said.
"The next federal election will once again result in a total of 151 members elected to the House of Representatives.
"The Committees dealing with these respective redistributions are at roughly the halfway point of their work, and they are scheduled to separately release proposed boundaries and names during the first quarter of 2021."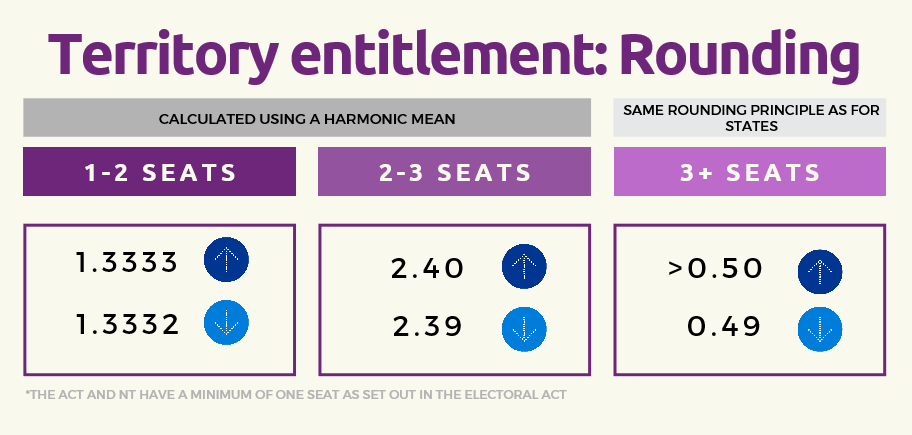 Editor's notes:
The legislative changes described above do not relate to NT and ACT representation in the Senate – both jurisdictions will continue to have two Senators.
Further information about NT and ACT representation in the House of Representatives is available on the AEC website.
Details about the current Victorian and WA redistributions can be found at www.aec.gov.au/redistributions.